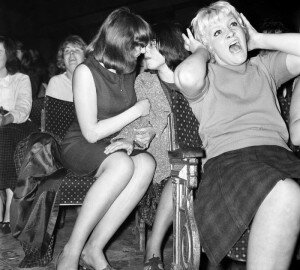 Did a summer crush sneak up on you?
A woman who came out of nowhere and surprised you. Maybe you met at some great lesbian summer festival, a dance, on a cruise or in a meetup group.
You weren't looking for her and she wasn't looking for you but shazam! Your heart got hooked cause the chemistry was intense.
And then it ended, just as quickly as it started.
I've been there and done that. It's intense. And many women confuse a crush for love. Why? Because it feels so intense when your heart gets opened up and your lips connect.
A Summer Crush is Like a Tornado Going Through Your Chest
When we meet a lesbian and the chemistry is intense and the connection happens, our minds go wild with desire and dreams. You're kissing in the parking lot after a dance for 15 minutes while you're filming a movie in your head about the next twenty years of your life with her.
Can you say CRAZY! And that's you making you crazy my dear!
That tendency we all have to want to control the future and get it all worked out can turn a crush into a real heartbreak.
What's a lesbian to do?
First off when you realize you're having strong feelings for a hot lesbian who has shown up in your world, don't use the words "I'm in love…"
Scientifically you're in lust. LUST! Not love. That's what a crush is pure and simple. You're lusting after her, wanting her and being a bit consumed in your head thinking about her.
All relationships start with lust, then they move to something called limerance. That's the stage where she literally glows in your eyes and mind. Then if things last past this stage, love can and does happen.
Lust can make us ignore real incompatibility. That doesn't mean you'll end up hating each other but that you're getting hung up on someone who really doesn't have the chops to make a relationship last with you. She's hot and juicy but if you look at her realistically (without all those lust chemicals) you'd say, "hey she's great but not for me…" and that's important information.
I had a great summer crush on a really amazing woman. We had one great first date, a second interesting date the details of which I'll leave out of this blog post and some really brilliant conversation. Ultimately, we are not a match at all when it comes to a long term relationship.
Now I'm not made of stone. I was very excited to meet someone and have that instant chemistry connection. It was very disappointing to realize that we were not a match made in heaven, but I have made a surprising new friend.
What helped me through the super strong crush emotions… a few of my dating power tools:
Meditation  – it helps me step back from my emotions and thoughts
Asking better questions  – gets me better answers
Not spending time with her – because it just makes the lust stronger
Letting myself have a good cry about it – a girl needs to cry now and then
Speaking my truth from a place of vulnerability and
Letting go and accepting what is… i.e. what Byron Katie teaches
What about you? Did a summer crush sneak up on you? How are you doing letting go and accepting that it won't work out?