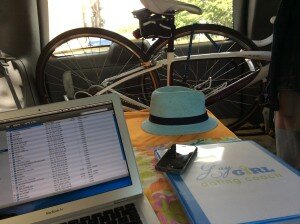 The Gay Girl Love Tour  kicked off again late last week, on Thursday.
I overslept and got a late start.
Had to turn around to go back and pick up my protein powders but fortunately remembered within a mile of home.
I've probably forgotten something else but as an old pro at this point, what the heck… I'm on the road again and that's what counts. There are stores everywhere in this country if I really need something.
Living the Love Tour…
Most people I know get up every day and go to the same job in the same place. They put their heads down on the same pillow on the same bed in the same room every night.
My traipsing around the country with the Gay Girl Love Tour makes me an odd ball perhaps but I like to think a loveable one with a powerful mission ~ to create more love in our lesbian nation by helping women create great relationships!
I drive thousands of miles, I meet hundreds of women and I see so many things that are truly beautiful. Sometimes I want to pinch myself because I'm really doing this! I love my life.
Now you don't have to be like me or live like I do to create your own gay girl love tour.
Your life is your own personal gay girl love tour…
If you go with the simple premise that we are all here as expressions of love and one of your purposes is to BE MORE loving… you can do that everywhere you go during your day to day life.
When you take a walk, look around at the trees, the grass, the fading flowers and the turning leaves and say out loud ~ I love this! I love these trees, I love the grass and flowers, I love the colors of the leaves. What great entertainment you provide for me!
Then let's say you go to work, now finding the love might be harder here but let's see what's possible…
Can you feel the love for a coworker or two even if not for everyone? Can you feel the love for a customer that you help out? Can you feel the love for something you are creating? Can you simply find a place to be grateful for every penny that is being added to you as a result of trading your time for dollars?
Sometimes it can take digging to find love and gratitude.
Now how about at the end of the day… you head out and meet a friend for dinner or a quick jog or bike ride? Or maybe you just head home for a quiet evening. Where can you bring love into this part of your day?
Simple gratitude for your friend who always shows up? Deep gratitude for your living space that is safe, warm, clean and has hot and cold running water? Or even gratitude for the talent on the TV show you're going to watch tonight?
So dig, it's worth every minute of digging!
The most important love ritual you can do is…
Finding ways to love yourself more deeply. Look, most of us are really awful at loving ourselves. It's the biggest reason we make bad relationship choices and our relationships fail.
Loving yourself first and foremost should be the most important thing you do in your day. Being kind to yourself, not letting your inner critic be in charge of how you feel all day would be a good place to start.
Turn the Inner Critic Off!
To me that translates into recognizing when you are picking on yourself and stop! Turn that critical voice off. Stop letting that inner voice beat you up.
Remind yourself of your good qualities and that as an expression of love in the earth… you are one amazing woman.
And here's an interesting side effect of quieting your inner critical voice, you'll discover other people bother you a lot less. Interesting side effect, right?
As I write this, I have 43 hours of driving ahead of me. That doesn't include stopping for gas, naps, food, working out or sleep. By the time you are reading this, I'll be on the border of Nevada and California with one last push to get to Women's Weekend 2.0 on the Russian River.
And the theme of Women's Weekend 2.0 is practice random acts of kindness and senseless acts of beauty.
So how about randomly loving yourself more deeply every day over the next couple of months?
That's my challenge to you as I embark on this Fall Tour.
I'll be on the road for about 10 weeks. That's a great time frame for creating a new habit. And I'll do it with you!
If you accept the challenge, hop on over to my Facebook page and tell me there.
Love yourself! Judge yourself less!
Practice kindness with yourself and others! And of course, enjoy senseless acts of beauty.
Beauty is everywhere around you. Just look at the clouds or trees or a bird. Such beauty and seemingly so senseless except that Mother Earth and all her creatures truly do nourish our souls and we need every bit of it.
If this post spoke to your heart, please leave a comment below. Tell me, do you already practice loving yourself more deeply? How does that look? Your sharing could help someone else, so share as one more random act of kindness…
Sending you a big hug!